Painting, for the most part, is an act accomplished in seclusion. Deep in the recesses of my studio, I spend hours contemplating individual bits of color which, if I am lucky, conspire to transform a plain piece of linen into a spatial symphony.
That's the pretty version. Most of the time I stand around staring at my painting trying to determine if that piece of payne's grey really works in that upper left hand corner. I can paint ferociously for hours, only to scrape off a day's worth of painting and decide the scraped off version is better. Or I can spend hours just looking, dip my brush in some raw umber and put a small dot somewhere most people wouldn't notice – then call it a day. I can run out the door, late for a meeting, and find myself covered in a deep rich shade of winsor green. Or after a long day of work, I can finally get into my studio to find the phone won't stop ringing and the light just won't cooperate. All in all, not a glamorous life.
But painting is what I do and a good part of who I am. Color, in all its infinite variations, is the air I breathe. I just can't seem to live without it.
And as melodramatic as that sounds, that is how I feel. From the time I was in kindergarten, I knew I would be a painter. Not a sculptor, not a filmmaker, not a designer – a painter.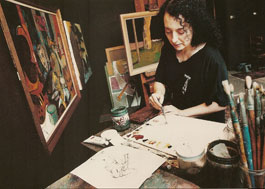 I am a person seduced by color and addicted to tubes of paint. I am a person who spends much of her life juggling the demands of time, the limitations of space and the politics of color on a three by four foot canvas. I am a person who believes most of the world's problems could be solved if only I could get that lower left hand corner of a painting to behave.
On any given day, you will find me in my studio deep in negotiations with cobalt blue and permanent rose. But eventually the negotiations cease, the painting is dressed up in a frame and off it goes to rest on a wall somewhere in a gallery or in someone's home. Then I step back and the painting begins a life of it's own – a life without me.
- PAULA MARTIESIAN